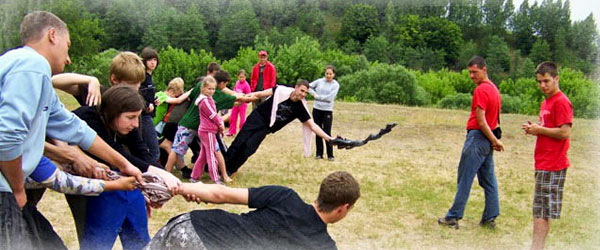 In June 11-14 our workers from Rivne did a camp for Rivne teenagers in "Sokolyni Gory". 22 students of Educational complex #12 had a chance to be in camp and were really happy and impressed by this camp trip. Three days we had an opportunity to talk on urgent topics – "Me and my friends" on the first day, "Me and my family" on the second day, and "Me and God" on the third day. The students were really impressed and delighted. To judge from their feedbacks we can say that this time was not spent in vain for them and we could reach the aims we set. Here some of their feedbacks.
"In all my 16 years of live I never told my mom and dad that I love them. It easily can happen that tomorrow they'd be gone and would have a heavy burden in my heart because I'd never told them those words. Starting from June 12, 2011 I will tell them about it all the time. My wish for you: dear team, I wish you to trust the Lord all the time. I believe that He exists. I wish you all the best!" Velychko Victor

"These 4 days which I spent here gave me so much. During the first day I have found many friends. During the day 2 my attitude to my parents has been changed cardinally. I understood what I did wrong, that relationships should be different. I'm going to change it. On day 3 I understood that God is much! I understood that I love Him! I wish you to become closer to each other, that your thoughts and faith touch the hearts of many more people. Give your love to people. All the best!"
"I always believed in God, but in camp I came to understand more. My dream without God's help will never come true! I loved everything in this camp!" Andriy
"During the time spent with you all I came to reinterpret me inner world, I understood in a realistic way what real spiritual values mean. I spent wonderful time and will never sorry that I have been to here. You all are so good people and I had fun with you. I want to wish you all to stay as you are and bring other people the goodness that you brought to me. Thank you for everything!" Vita J
A situation of the family with many children (9 children) in the village of Rudantsi won't leave any person indifferent. In June 13 our workers visited the family and brought them some food. The mother and the smallest girl are in the hospital that's why the other children are neglected, hungry, need support and help. Nearest time we plan to do sanitary repair and help to bring their room in order because all the family (9 kids and 2 parents) live in one room. Some of older kids sleep on the floor.